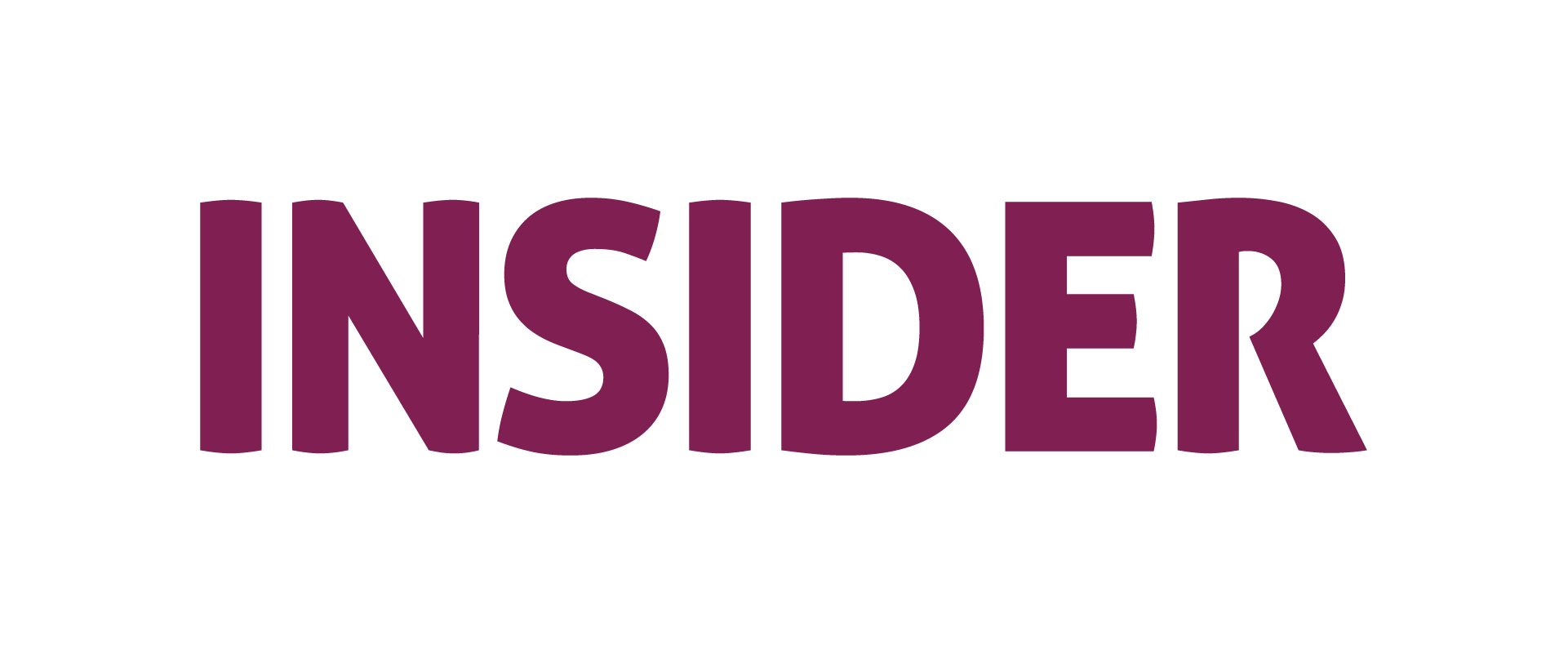 We Knew of SaaS, but Farming-as-a-Service?
There's an Uber for everything now - from walking your pets to delivering forgotten phones and documents! 
But services that cater specifically to the agricultural sector? Services that let you order seeds, track weather and soil conditions and decide the best nutrition for your crops - online?
This week in Favcy Review, we dissect the growing FaaS segment of Agritech in India. 
Saddle up and read on!
Apparently, there's Uber for everything?
The Uber model has made its way into almost every aspect of our life. Did you know Software-as-a-service is one of the highest funded sectors of 2022 in India? No wonder every sector is adopting this dynamic.
But I've always disliked start-ups that advertise themselves as "Uber for something." Mostly because they tend to apply sharing-economy concepts to obviously first-world concerns. Usually in an ill-advised bid to become the next unicorn. 
Needless to say, anytime I read headlines like "Doggy Ubers are Here," referring to start-ups providing on-demand dog-walking services, I shudder. It's not the Uber concept that bothers me; it's the haphazard application of it to incremental problems.
But what if we applied the Uber model where it can actually make a difference?
Farming - the crooked, tired backbone of India
Agriculture contributes about 17% to India's GDP. With a value of approximately $390 billion, it is one of the most important economic activities in India. Around 60% of India's rural population depends on agriculture. 
Although India is the leading producer of multiple crops, there is potential to improve sector performance as the country trails its international peers in various aspects and faces multiple challenges throughout the production cycle.
Now, it is a widespread opinion that private sector participation could redefine the sector through innovative solutions (such as Big Data and FaaS) and make it more efficient via improved access to technology, capital and entrepreneurial skills. And we agree.
This is where the concept of Farming-as-a-service found its footing and FaaS startups swooped in to fill an obvious gap in the ecosystem.
The "Uber-for-farmers" model
The Uber model can be a powerful tool to drive down costs for the consumer while improving incomes for asset owners and can yield surprising results when applied to fundamental problems such as agriculture.
Farming-as-a-Service (FaaS) offers innovative, professional-grade solutions for agriculture and allied services via a subscription or pay-per-use model. Some solutions are organized, efficient reinventions of existing practices, while others are tech-driven innovations.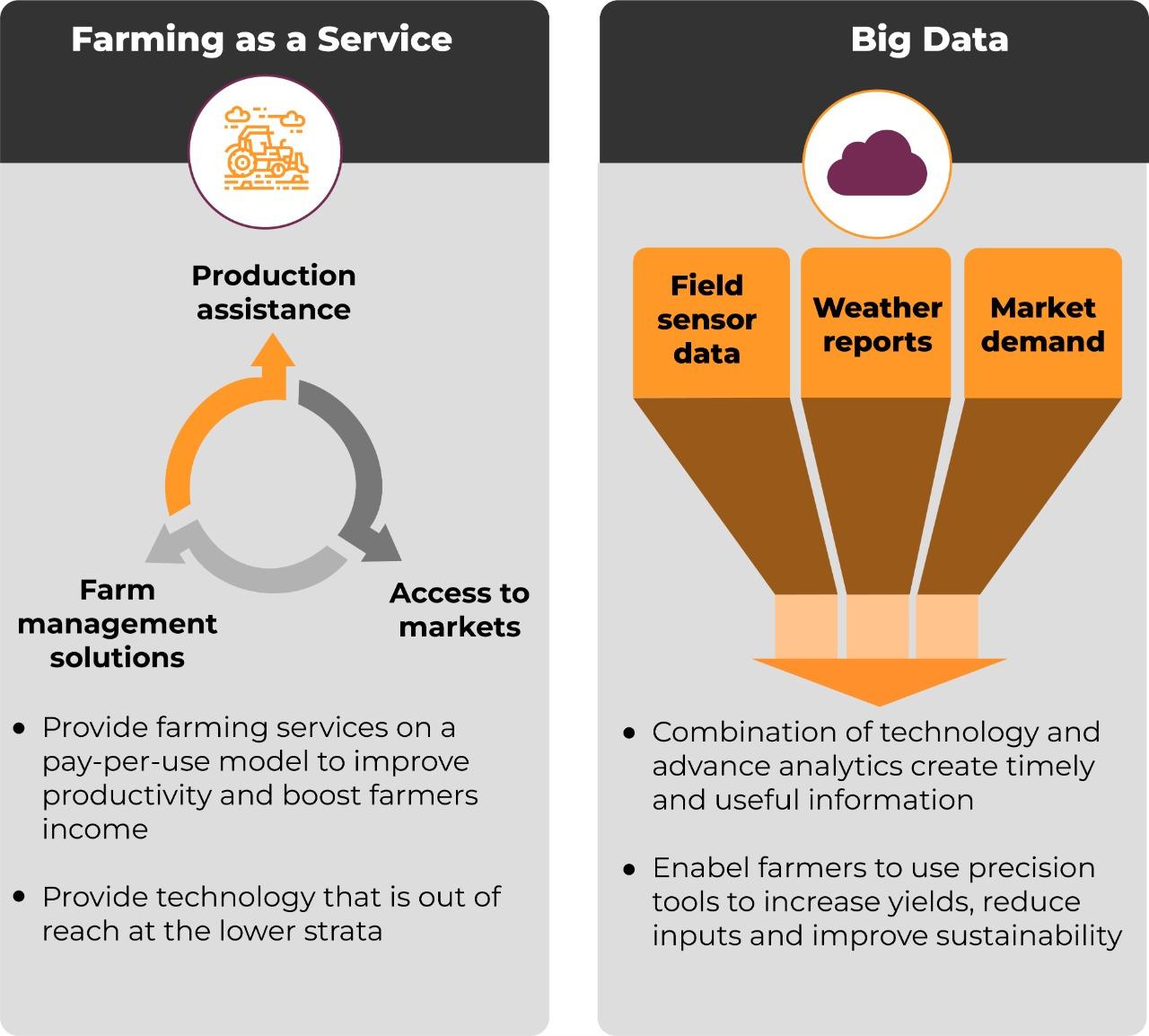 These farm management solutions allow stakeholders to make data-driven decisions to boost productivity and efficiency. 
FaaS offers information sharing, analytics, and precision farming tools.
What solutions does Farming-as-a-service exactly offer?
These three services are the core of FaaS.
Farm management solutions

- which

offer information sharing, analytics, and precision farming tools.

These aid information dissemination between farmers and market players. This involves information management between farmers, government, corporates, financial institutions, and advisory bodies.
These functions usually via three stages -
Data collection

: Information is collected directly through high-tech equipment (drones, satellites), farmers, market agents, government agencies. Primary data is gathered regarding the quality of supplies (such as seeds, fertilizers), associated costs, soil quality, and weather.

Data processing & Information Dissemination

: Process and analyze data and disseminate information via mobile alerts or dashboards • Train various stakeholders using assimilated data 
How the information will be used by various stakeholders: 
Farmers: Adopt precision farming practices to boost productivity, Government: Empower field officers to provide timely support, Corporate: Optimise input application and real-time monitoring of crop output, Financial institutes: Facilitate loan provisions, risk management, fast-track crop insurance claims, Advisory bodies: Allow experts to provide real-time advice 
2. Production assistance - which offers on-farm resources to aid production. This involves equipment rental, labour services, and utility services. This also increases accessibility and affordability. But how?
Types of services

:  Equipment rentals, with or without an expert operator. On-demand workforce, such as skilled and unskilled labour, on-demand equipment repair, veterinary services. Utility services, such as the provision of off-grid electricity and water.

Service Delivery:

The company acts either as an aggregator platform or as a service provider • The company provides doorstep service delivery to farmers • Farmers pay per use or lease for a fixed period; EMI options are tailored to farmers' repayment ability.

Implications for Farmers:

• Farmers can supplement their workforce and capabilities to increase their yield.
3. Access to markets— platforms connecting farmers with suppliers of agrochemicals and consumers of their farm produce. It aids access to quality products at fair prices.

Input-farmer:

Virtual platforms such as mobile apps or online stores to connect farmers with suppliers for timely procurement of seeds, fertilizer, pesticides 

Farmer-end-market:

Virtual platforms such as mobile apps or online stores connect farmers with consumers of their produce, eliminating excessive layers of intermediaries and helping farmers get a fair price for the produce.
These solutions have been adopted globally to provide a gateway to innovations across the agriculture value chain. Visibly, FaaS technologies and platforms are helping farmers improve productivity and economics across the supply chain.
What's the hype about?

It is but natural to wonder how FaaS is actually helping farmers. For starters, FaaS is the solution that can help address inefficiencies across the agricultural supply chain, such as low productivity, lack of farm mechanization, access to markets, and data asymmetry.

It encourages product innovations such as multipurpose agricultural equipment and tools for real-time data capturing and analysis.

But most importantly, FaaS has the potential to spark an economic and social revolution by improving the status of small and marginal farmers. 

Industry Insights
India's agritech market is estimated to reach $24.1Bn by 2025! The total investor funding for FaaS in India will increase from current $105 million to $115 million. More than 40% of funding rounds are at a "series stage," indicating investors' high level of confidence in investing more money in the growth stage. 
FaaS-based start-ups have gained popularity as investors pump millions of dollars into them. Total venture capital (VC) has increased about 5.5 times in the last three years! The numbers are unbelievable and increasing rapidly. As a result, the FaaS segment is definitely on the VC radar!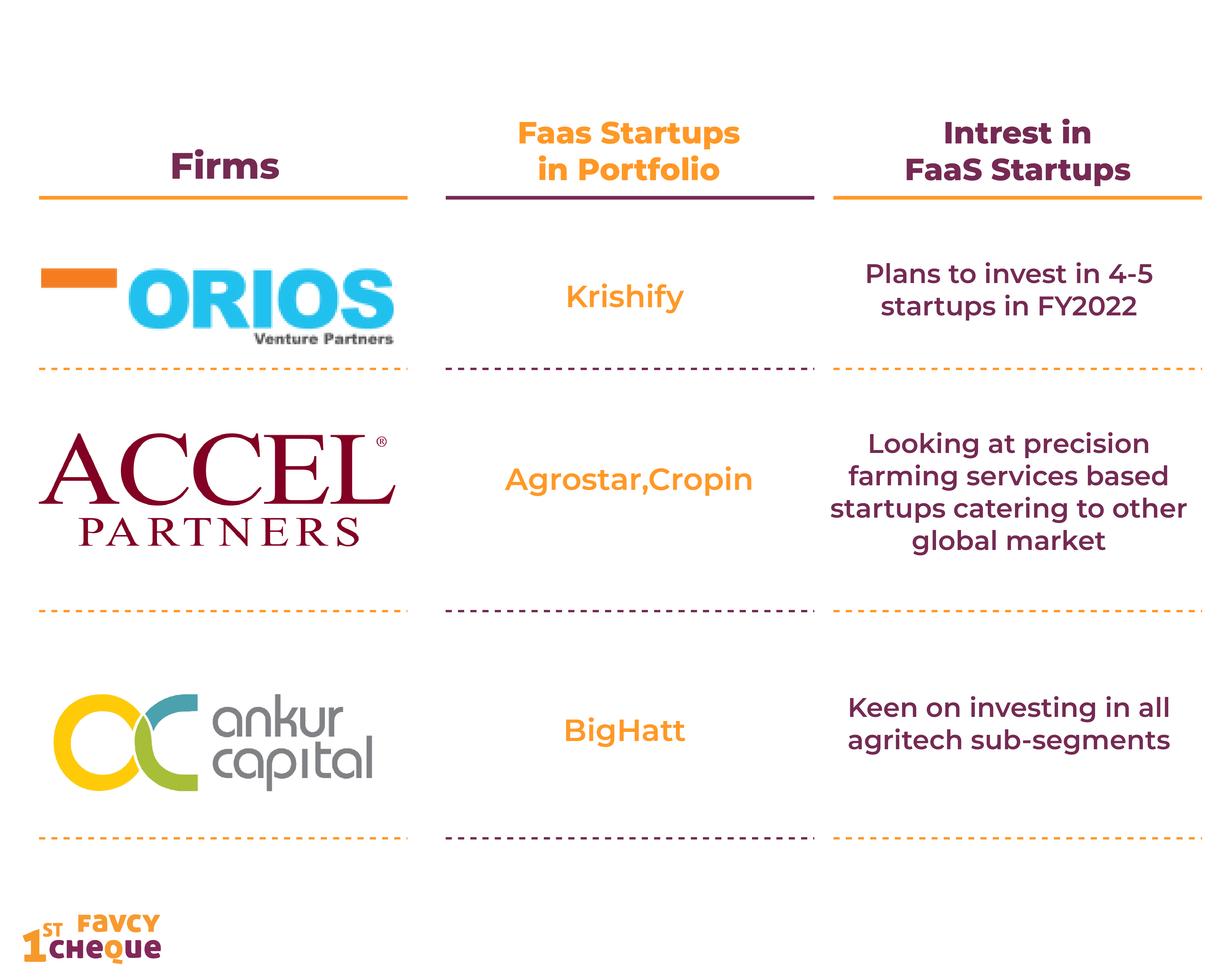 The real scope of FaaS in India
Let's get real, India is still lagging behind when it comes to large scale rural development. While there is progress, for the FaaS model to become widespread, we'd need triple progress.
The model heavily relies on literacy and connectivity among farmers and high penetration of broadband or mobile communication. Not only that, we need extensive on-the-ground knowledge and reliable information sources, skilled professionals with extensive tech expertise to aggregate and disseminate data on a large scale, accurately and in real-time.

Addressing the key structural challenges, such as the lack of infrastructure, technology and financing, the resistance from the ground level and regional differences, is critical to realizing the concept's full potential. This is what we need to truly start a FaaS revolution.
However, there are many players in the game that are creating big waves - Mahindra & Mahindra Group, ITC, John Deere, and many others. These companies are ensuring that the tech revolution reaches the root levels of the economy. From the use of drones for soil mapping and testing, which in turn can help grow suitable crops to equipment rentals and eCommerce platforms for farmers, many FaaS startups are making sure India is not left behind. 

Here are some startups revolutionizing the FaaS sector -

Trringo -

was launched in 2016 by Mahindra & Mahindra Ltd and aspires to rent farming apparatus to farmers at reasonable rates across the nation. The firm has a toll-free number, and also a mobile application that helps to connect farmers to the platform and place orders for farm products.
Agribolo -

embraces farm-to-fork, farm-to-mill, and farm-to-warehouse models, and aims to link farmers to the market. It was founded by Balaji Balaram in 2015.
Krishify -

a networking app for farmers that connects farmers with all the relevant stakeholders including fellow farmers, traders, distributors, farm equipment sellers, cattle doctors, transportation service providers, etc. by leveraging a unified mobile-first and vernacular platform.
BigHaat -  

founded in 2015, it is an Agri inputs marketplace platform that provides a wide choice of quality inputs to farmers at their doorstep. It offers products from seeds of flowers, vegetables and fruits to crop protection, crop nutrition, machinery, and segments on its platform.
With dedicated players in the game and our majorly agrarian economy that has a massive marketplace for this segment, we have a lot to gain from the advent of FaaS. There remains no doubt that the future of FaaS seems promising.
---
Stay tuned to receive the latest industry trends, investor insights, our exclusive angel bytes, and much more!
---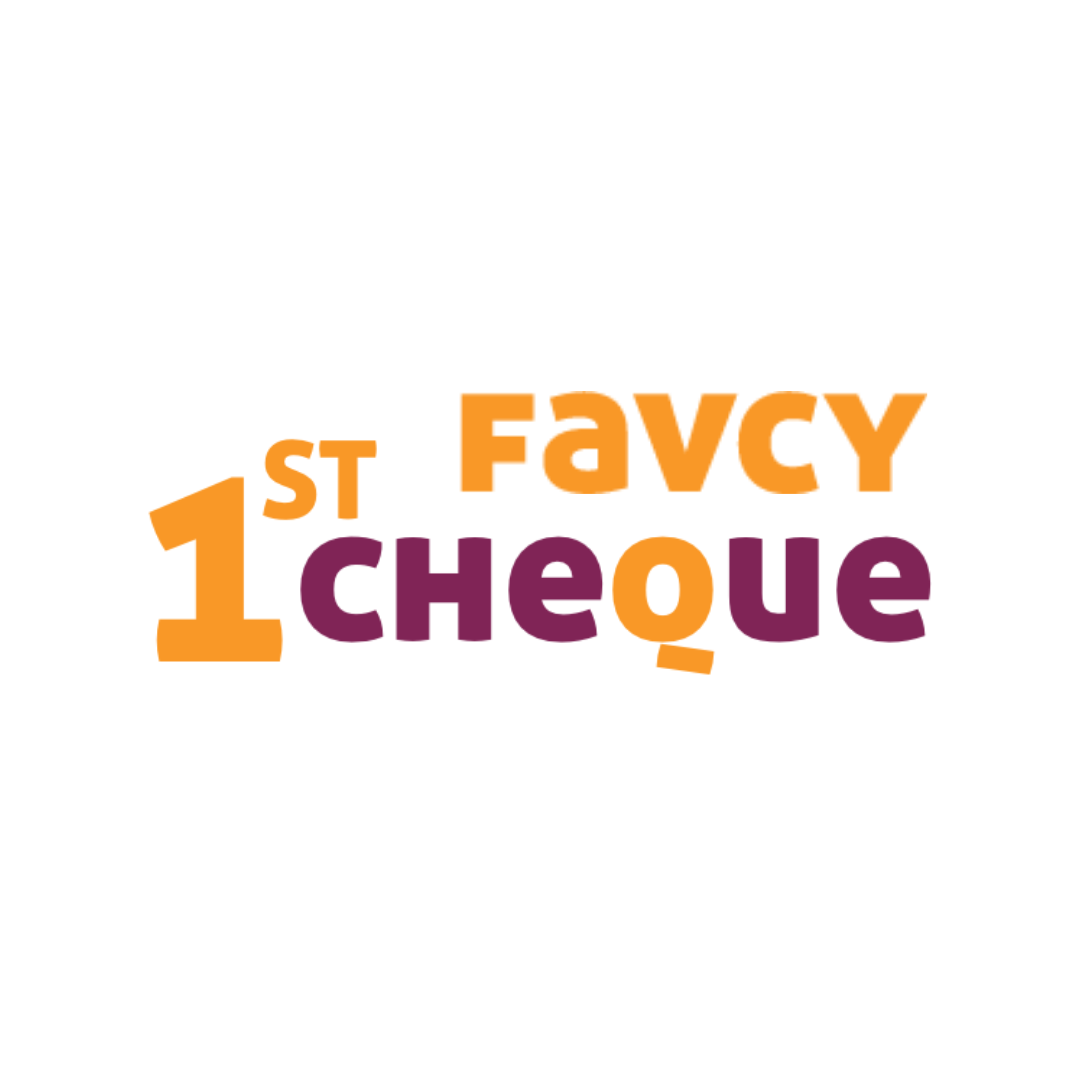 A platform for first-time angel investors to learn the science of early-stage startup evaluation. Get exclusive access to pre-vetted deal flow and make your first investment.     
Subscribe to our newsletter 👇🏻 Don't worry, it'll take just few seconds :)
Reach out to us:
Liked the newsletter, Share it with others!👇🏻