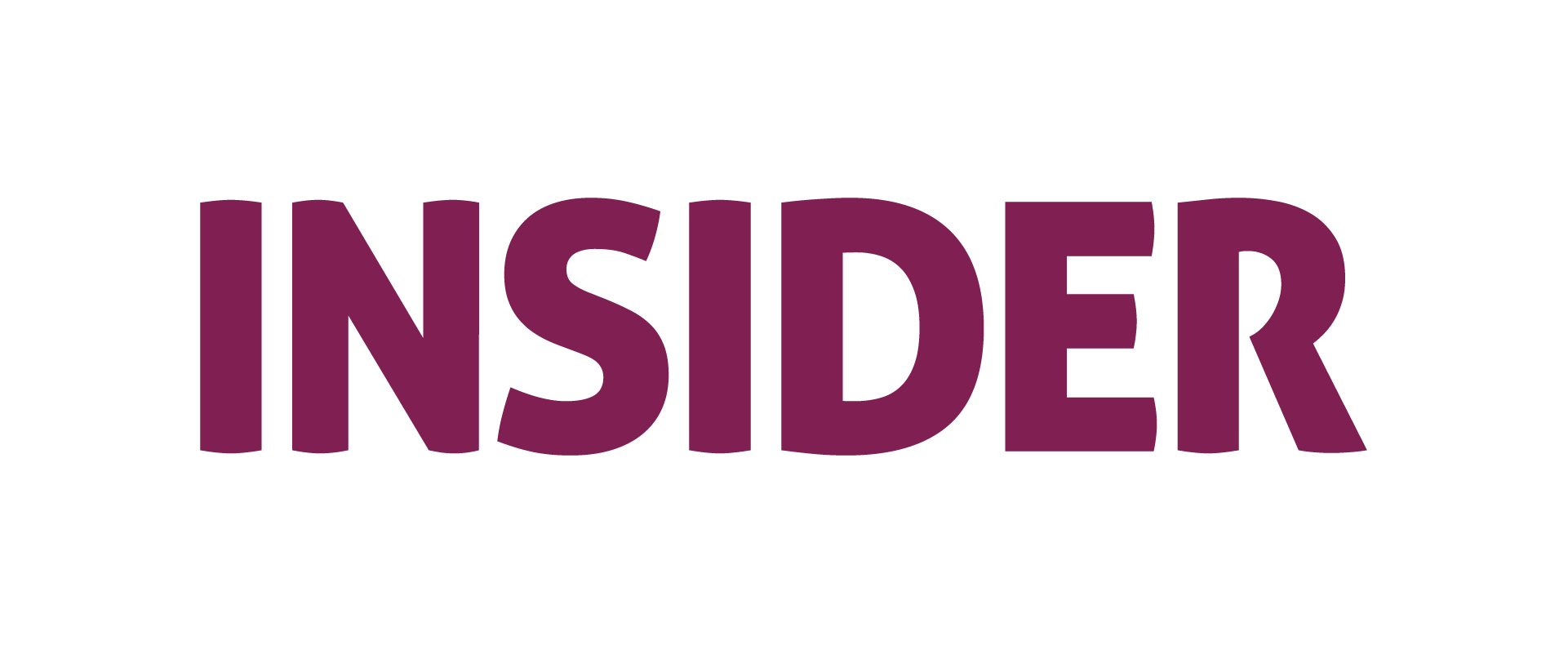 Unraveling 2021: The Great Indian Startup Ecosystem
2021 has been a hell of a ride for the Indian Startup Ecosystem. From raining unicorns to bullish IPOs, Indian startups left no stone unturned to become the 3rd largest startup ecosystem in the world!

How can we leave you behind ?😉 Don't you want a whole recap of all the massive fundings, exploding early stage startups, the craze of investors, IPO trends and what not!

This week Khushdeep Sethi, unravels the whole 2021 for you!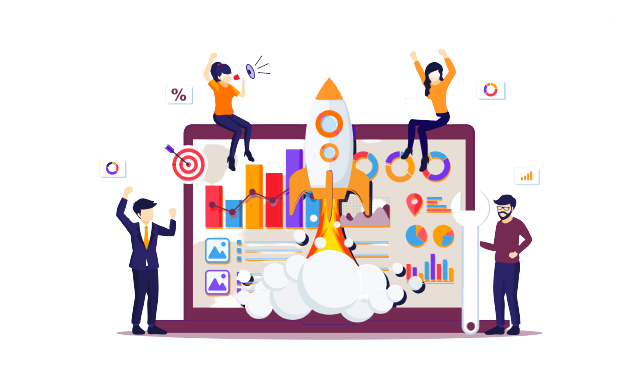 Do you remember the olden times of the startup ecosystem which was confined to software services?
As a nation, we have come a long way standing at 2nd position in innovative startups! From the archaic times of software to the bullish age to crypto and metaverse, this week we have the glory and galore of the Indian startup ecosystem in the year 2021!
With 82 unicorns, $38.5B raised, 1400+ deals as one of the top massive startup empires in the entire world!
Startup ecosystem landscape
India has emerged as the 3rd largest ecosystem for startups globally with over 59,000 DPIIT-recognized startups across 634 districts of the country as of 24th November 2021. The innovation in India is not just limited to certain sectors. We have recognized startups solving problems in 55 diverse industrial sectors with 14% from IT services, 12% fintech, 9% healthcare and life sciences, 7% education, 5% professional and commercial services, 4% food & beverages, and 4% agriculture.
Indian Startup Ecosystem has seen exponential growth in the past few years (2015-2021):
9X increase in the number of angel investors.

7X increase in the total funding of startups.

7X increase in the number of incubators 
Funding trends across 2021
Strong deal flow, with close to $3.2 billion funding in early-stage startups across 835 deals. —higher than in all previous 5 years.

Continued momentum in fintech, consumer tech, and software as a service (SaaS)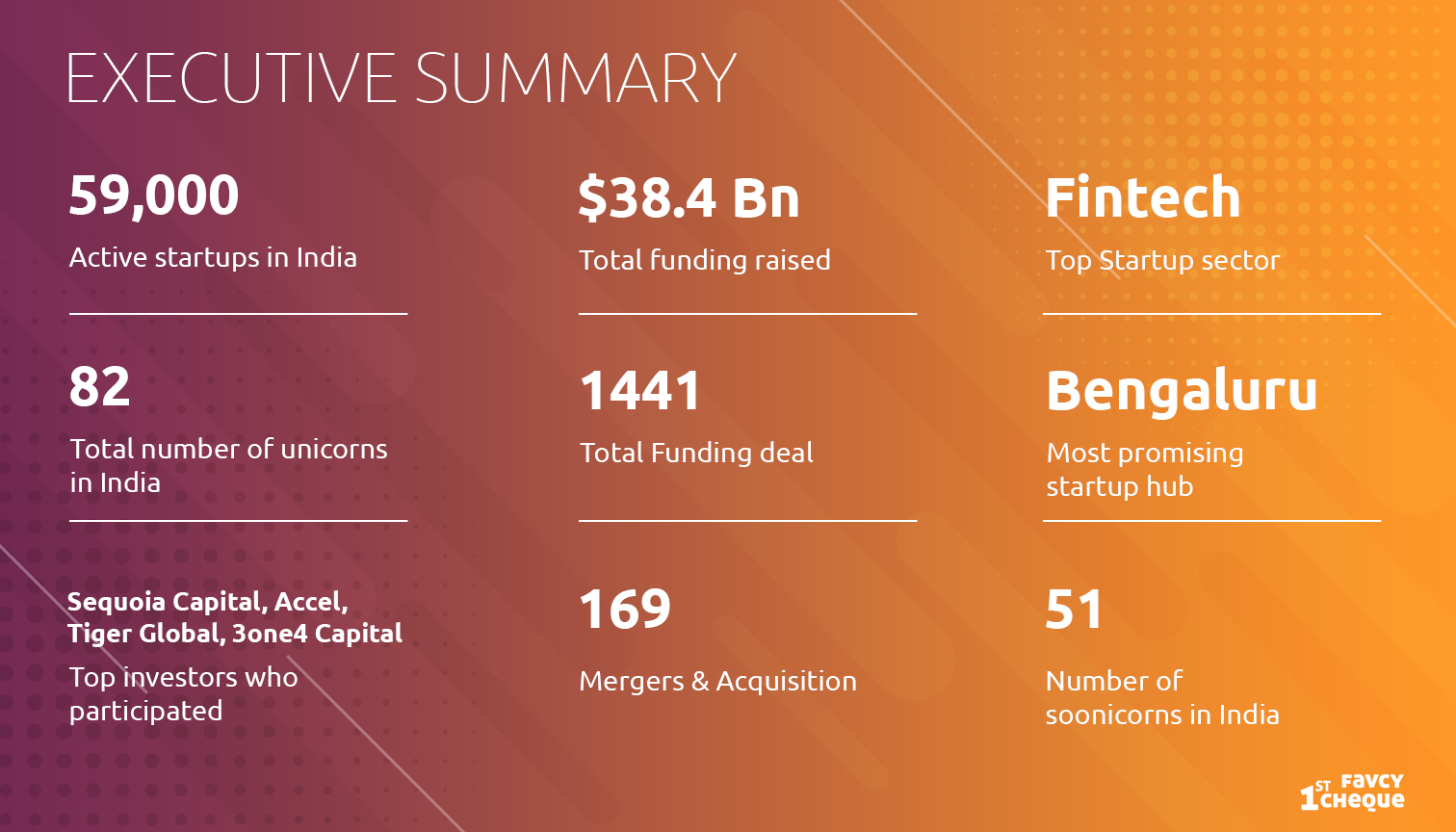 Sector wise
Fintech has ruled the roost as per this survey as the sector reported exponential growth in its investments in India given the coronavirus pandemic. Investments worth $4.6 billion were recorded in the fintech space so far, up ~296% from $1.6 billion in 2020. Investments worth $2.4 billion were recorded for 53 closed deals this year in Q3 CY21 across several stages of investment.
In the case of fintech unicorns, top early-stage investors were Blume Ventures, Elevation Capital, and Matrix Partners India whereas prominent late/growth stage investors were Sequoia Capital, SoftBank, Tiger Global, IIFL VC, and 3one4 Capital.
State wise funding analysis
Cities like Bengaluru, NCR, Mumbai, Pune, Chennai, and Hyderabad continue to be the key startup cities in India. Bengaluru and NCR together contribute ~76-78 percent of total funding activity in the first three-quarters of CY21 followed by Mumbai, Pune, Chennai, and Hyderabad.
The increase in funding activity in Bengaluru this year is driven by startups like Byjus' CRED, Meesho, Swiggy, and Unacademy raking in huge investments while funding activity gained impetus in the NCR region on startups like Zomato, Pine Labs, OfBusiness, and Delhivery attracting humongous fundings. 
Edtech, fintech, and media and entertainment are the key sectors that attracted funding in Bengaluru. While, sectors like fintech, food tech, and B2C attracted massive investments in Delhi.
Funding activity went up in Mumbai on the back of investments in edtech and healthtech startups like Eruditus and PharmEasy coupled with start-ups like Dream11, Gupshup, and Infra.Market raising significant funding.
Early stage startup funding
India may be faced with an uncertain economic environment after being ravaged by a deadly second wave of the COVID-19 pandemic, but that hasn't deterred global and domestic investors from ramping up the pace and quantum of their investments into the Indian startup ecosystem. There has been a massive influx of funding in early-stage startups in 2021. The massive surge - the biggest in nearly five years saw a total amount of $3.2 billion in funding across 835 deals. Sequoia became the top investor, with a total of 35 deals followed by Kunal Shah, Founder, and CEO of fintech startup CRED, with 29 deals.
Titan Capital, Lets Venture, and Indian Angel Network Fund claim a position among the top five investors list.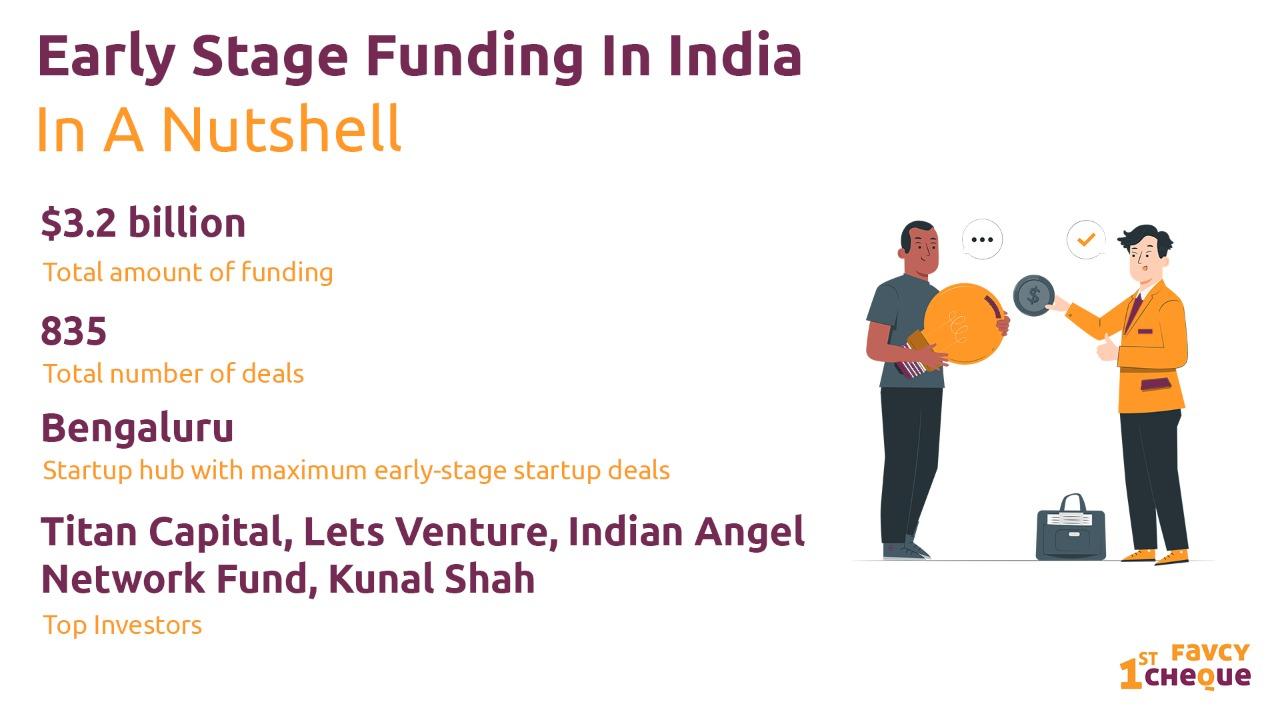 Unicorns and soonicorns in india

As of 08th December 2021, India has 82 unicorns with a total funding of over $38.4 billion and a total valuation of $ 260.5 Bn. In 2021 itself, India has witnessed the birth of 42 unicorns with a total valuation of $ 83 Bn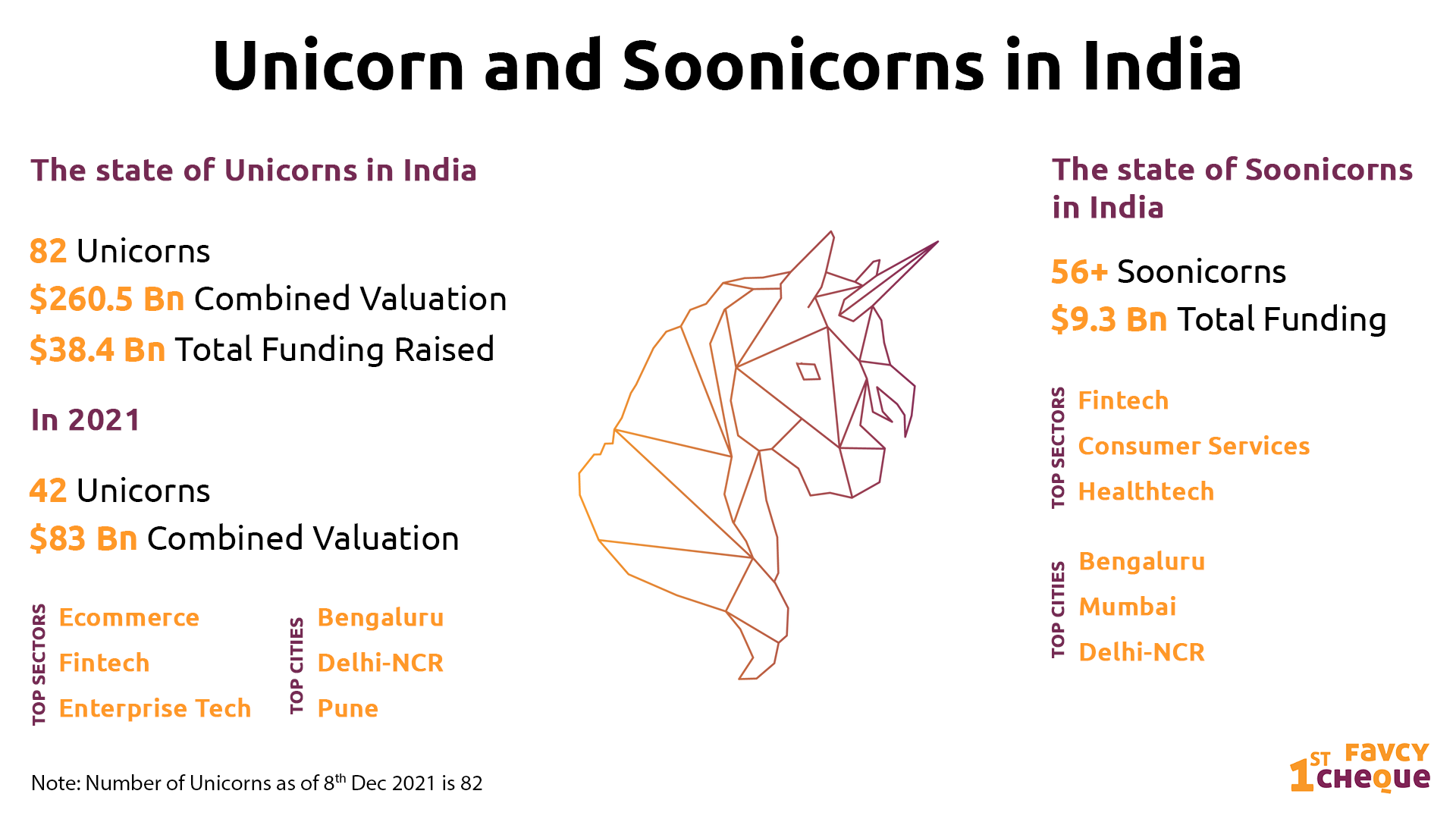 COVID-19 has caused a great amount of socio-economic suffering globally, but it is during this time when the resilient Indian Entrepreneurs have worked effortlessly to not only contribute to the economy but to also contribute toward COVID-19 relief efforts. 'Its raining unicorn' has been the motto of the year 2021 with 42 unicorns already pumped in the ecosystem and many soonicorns waiting in line.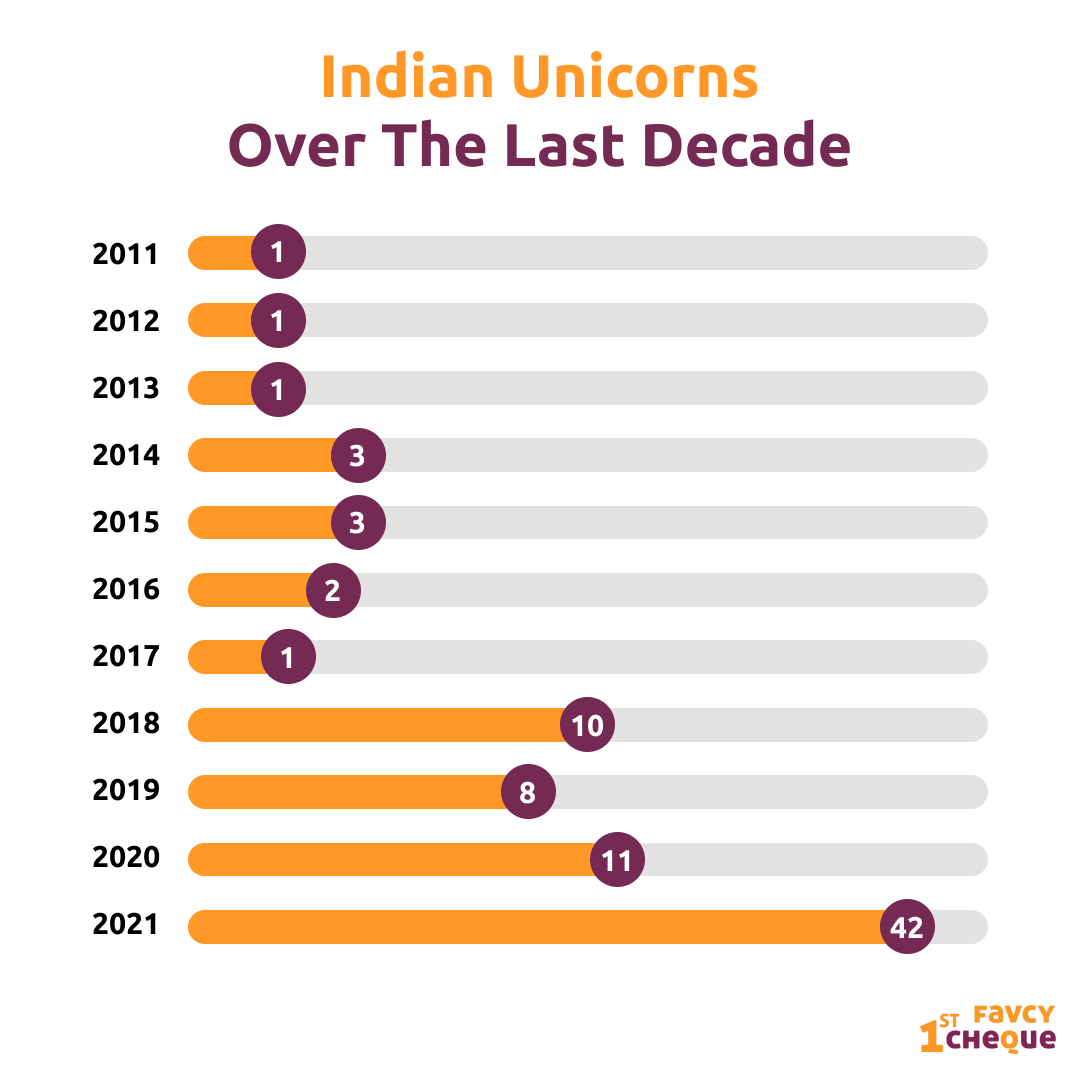 Geographically, the center of India's high-tech industry, Bengaluru is India's unicorn capital with the largest number of unicorns headquarters followed by Delhi (NCR) and Mumbai. While we see unicorns active in Tier I cities, this ecosystem is not restricted and is proliferating across the country till the last district.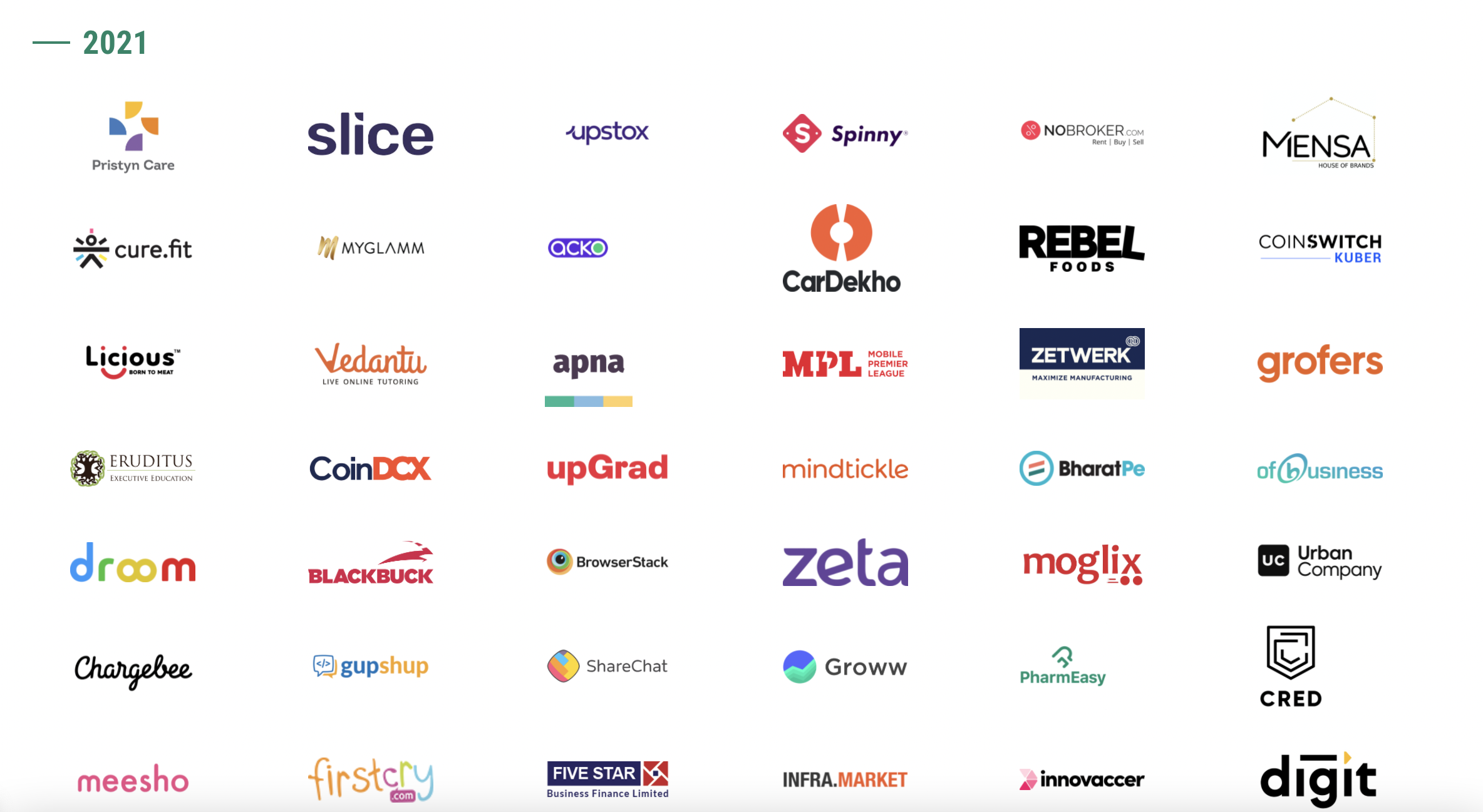 Traditional sectors such as Fin-tech, E-commerce, Supply Chain & Logistics, Internet Software & Services do dominate the arena but a strong wave of unconventional sectors such as Cryptocurrency Exchanges, D2C, Cloud Kitchens, Content, Gaming, Hospitality, Data management & analytics, etc are making their place on the list. 
The sectors that attracted the most investment was fintech (PineLabs, BharatPe, and OfBusiness), edtech (Eruditus and Unacademy), e-commerce B2B (Meesho), e-commerce B2C (CARS24), healthtech (PharmEasy), food tech (Swiggy), SaaS (Gupshup, Postman and Digit), media and entertainment (Dailyhunt) and logistics tech (Ola Cabs and Ola Electric).
While every startup has its unique journey to becoming a unicorn, the minimum and maximum time is taken by a startup to become a unicorn are 6 months and 37 years, respectively. Mensa Brands took only 6 months to become a unicorn in 2021, making it one of the fastest unicorns in Asia.   
Soonicorns

As of 06th Sep'21, India is home to 56+ soonicorns with total funding of $9.3B.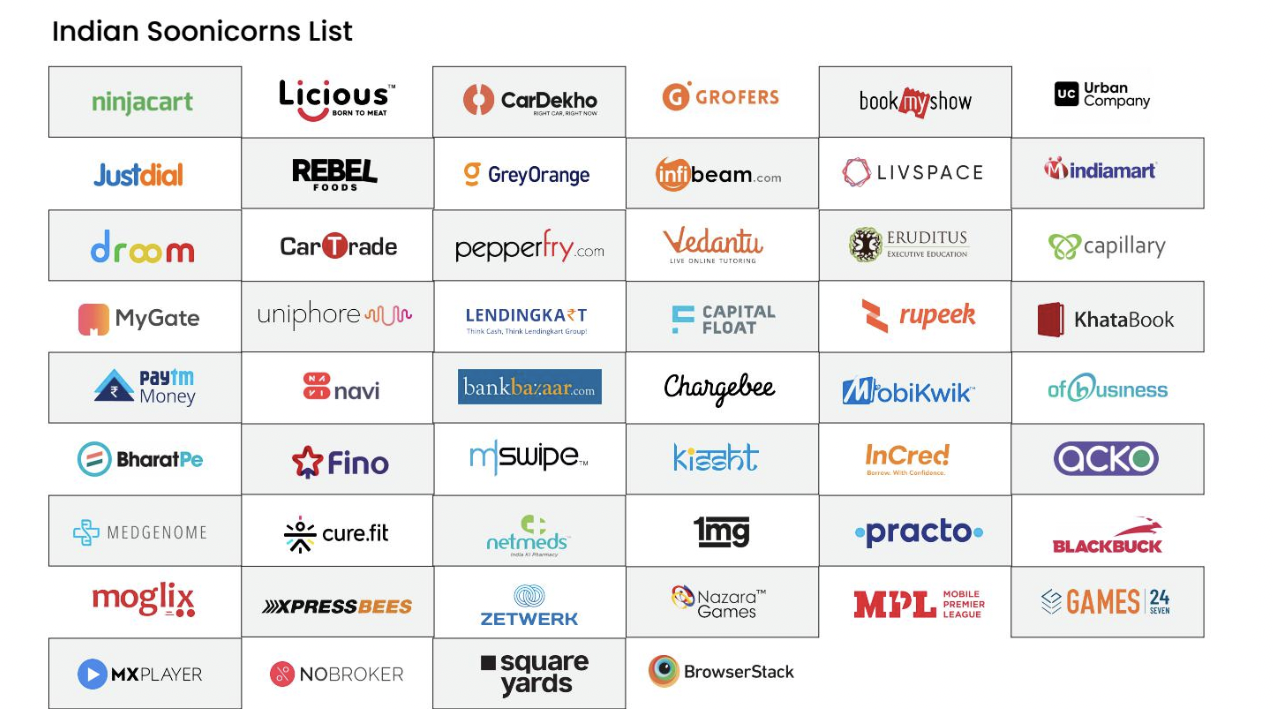 Investor participation trends
The robust nature of the Indian startup ecosystem is evident in 2021 year-to-date when as per a YourStory Report, in Q3 2021, 23 funding deals with ticket sizes equal to or more than $ 100 million were observed. Out of these, 4 deals were sized at more than $ 500 million. Some of the key investors in Indian unicorns are – Sequoia Capital , Accel , Matrix Partners, Blume Ventures, Elevation Capital, Lightspeed Ventures, Nexus Venture Partners, 3one4 Capital, IIFL VC and Tiger Global. Sequoia has been the most active investor in Indian Unicorns, followed by Tiger Global Management, Accel, and Softbank.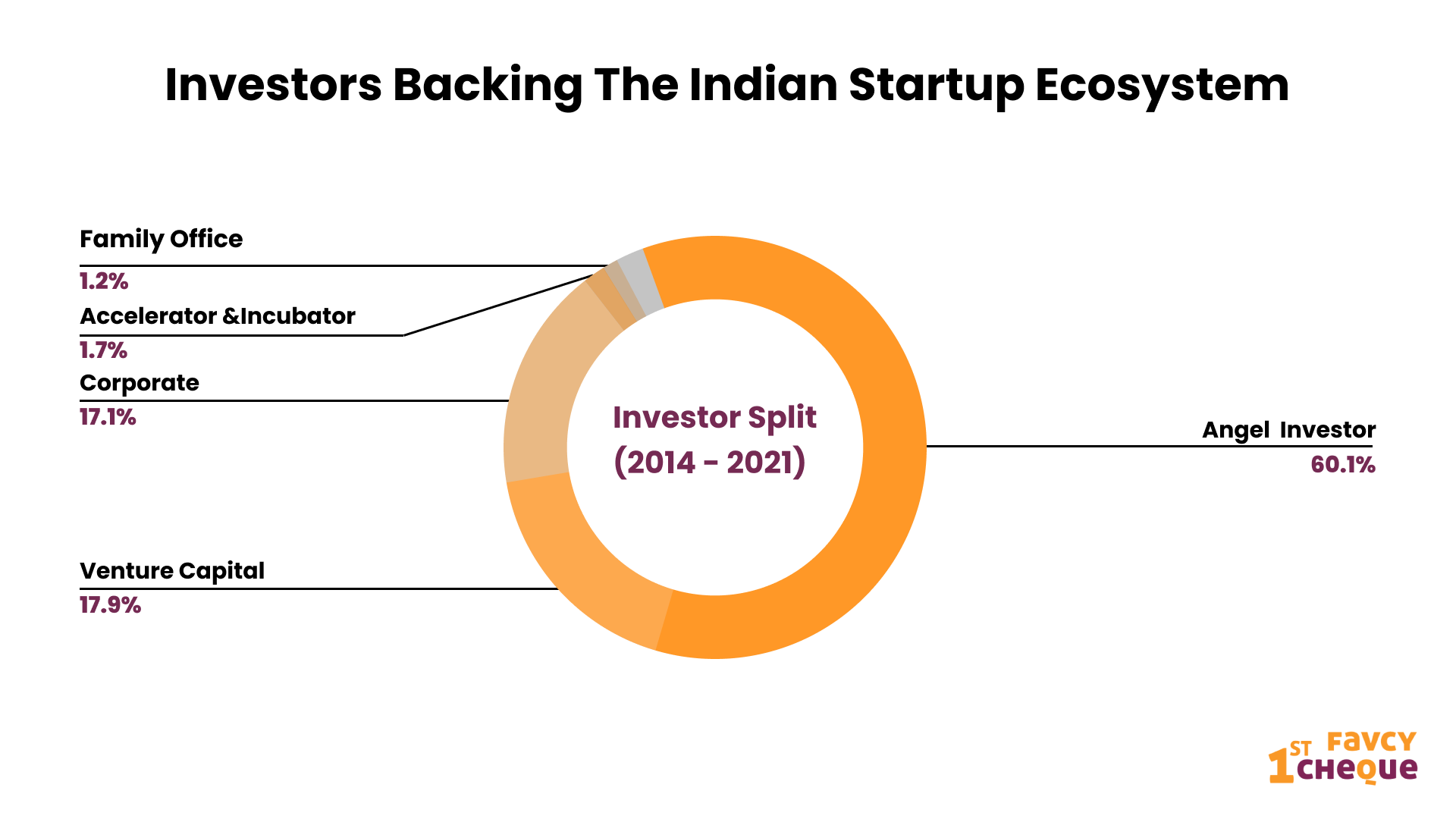 IPO Trends through out the year
Indian unicorns also explored public listing avenues as a next step to realize the growth potential. Some of the big unicorn names that offered an IPO include Zomato, Nykaa, PolicyBazaar, Paytm, and Freshworks, while many are already in lines such as Delhivery, Mobikwik, and CarDekho.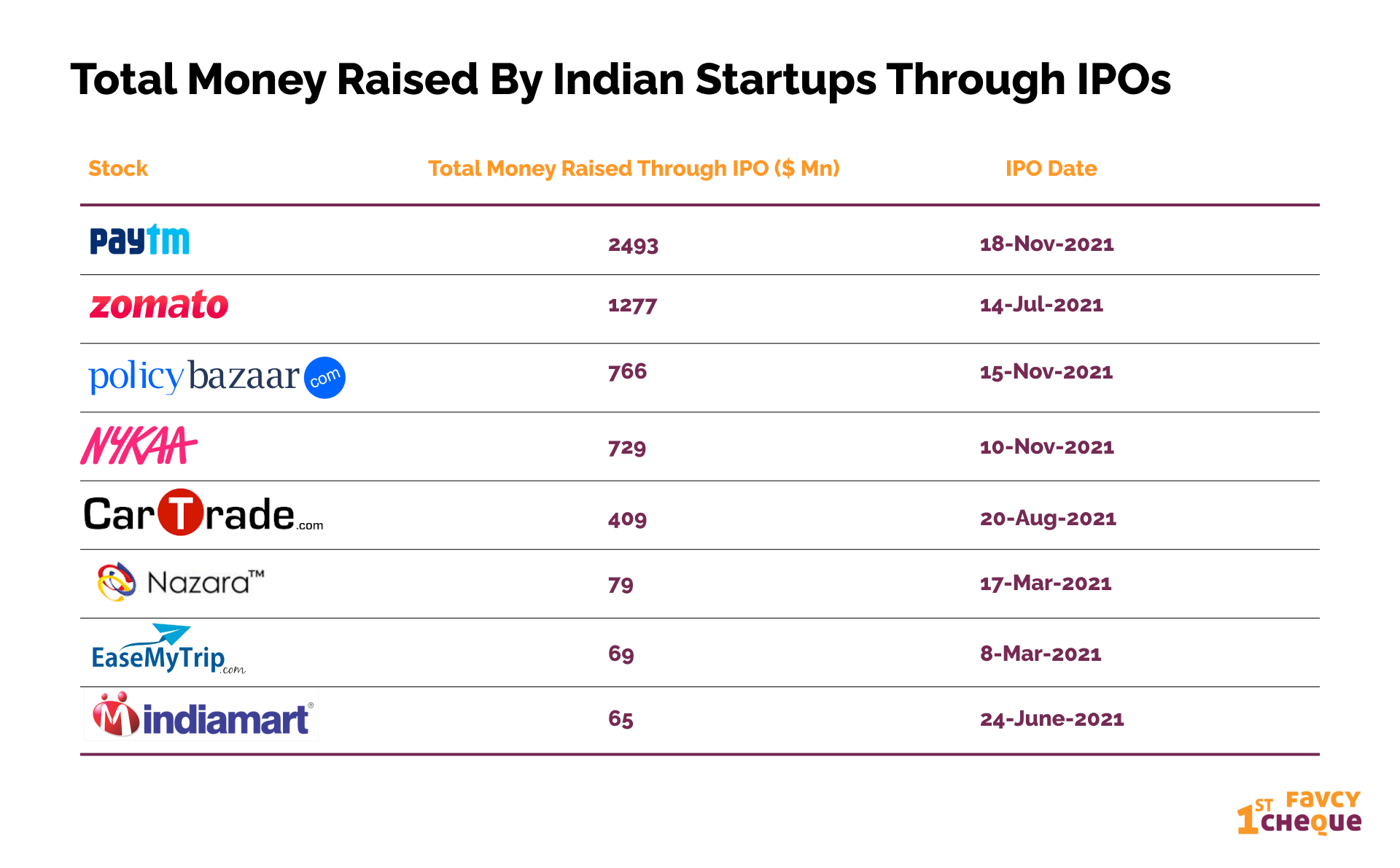 Factors fueling the growth
Rise of 2x/3x entrepreneurs
The Indian startup ecosystem has matured faster in the last few years, particularly due to the emergence of startups founded by 2x/3x entrepreneurs.
During the pandemic, we have seen these entrepreneurs pivoting to new models as well as launching new startups with innovative models.
For example, Jupiter, started by fintech veteran Jitendra Gupta, raised funds even before its launch. There are plenty of examples of such founders exiting their existing scale-up companies and launching new startups.
Deeper digital inclusion across businesses
From traditional legacy businesses to SMBs, student entrepreneurs to corporates, everyone has one common agenda — get the right tech stack integrated at the right place at the right time. This also brings scalability, thereby making future collaborations easier and less expensive.
Accessible avenues for funding
The recent surge in investment/funding is also fueled by the fact that in the past few years investments have been made very accessible to the mass population and not just big VCs and Ultra HNIs. Several platforms like SeedInvest, venture catalyst, let's venture, 1stCheque have made the investment process 100X easier for investors and founders.
Change in Over-all Perspective of Society
A sector that was previously frowned upon by the "Pursue a government job, beta. It offers stability…." section of the society, start-ups are now being increasingly accepted by the larger masses. The success tales of extraordinary exits and India's first unicorns have gotten a lot of media attention. As a result, several founders have become "start-up heroes" in India, adding to the present image of entrepreneurship as "cool" and "glamorous". Despite some exaggeration, the social acceptance of entrepreneurial vocations is  growing.
Government Support
The government of India is understanding the value of working with disruptive innovators across the value chain and using their innovations to improve public service delivery. Another important factor remains that start-ups are expected to create jobs, helping to reduce the country's high unemployment rate. Start-ups accounted for 2.64 percent of total employment produced in India in 2018; they are expected to create between 200,000 and 250,000 jobs in 2019.
Department of Animal Husbandary and Dairying has conducted a grand challenge in association with Startup India to award top startups in 5 categories 10 lakhs INR. 
Small Industries Development Bank of India has launched a scheme to provide assistance to existing Small and Medium Businesses in need of capital for growth.
Today, 1 out every 10 unicorns globally have been born in India. Overall, 2021 witnessed an exponential boom when it comes to startups entering the unicorn club. This is a testament to the vibrant startup ecosystem present in India. With digital products and services consumption at an all-time high, Indian entrepreneurs enjoy some of the finest market circumstances to take advantage of as they progress from a fledgling stage to a thriving ecosystem to the present level of maturity and stability. There would be no halting Indian start-ups once the medium and long-term epidemic impact has subsided. And as the famous lines by Robert Frost said, " Miles to go before I sleep" the Indian startup ecosystem has crossed just the initial steps to achieve a lifetime of success and glory.
---
Stay tuned to receive the latest industry trends, investor insights, our exclusive angel bytes, and much more!
---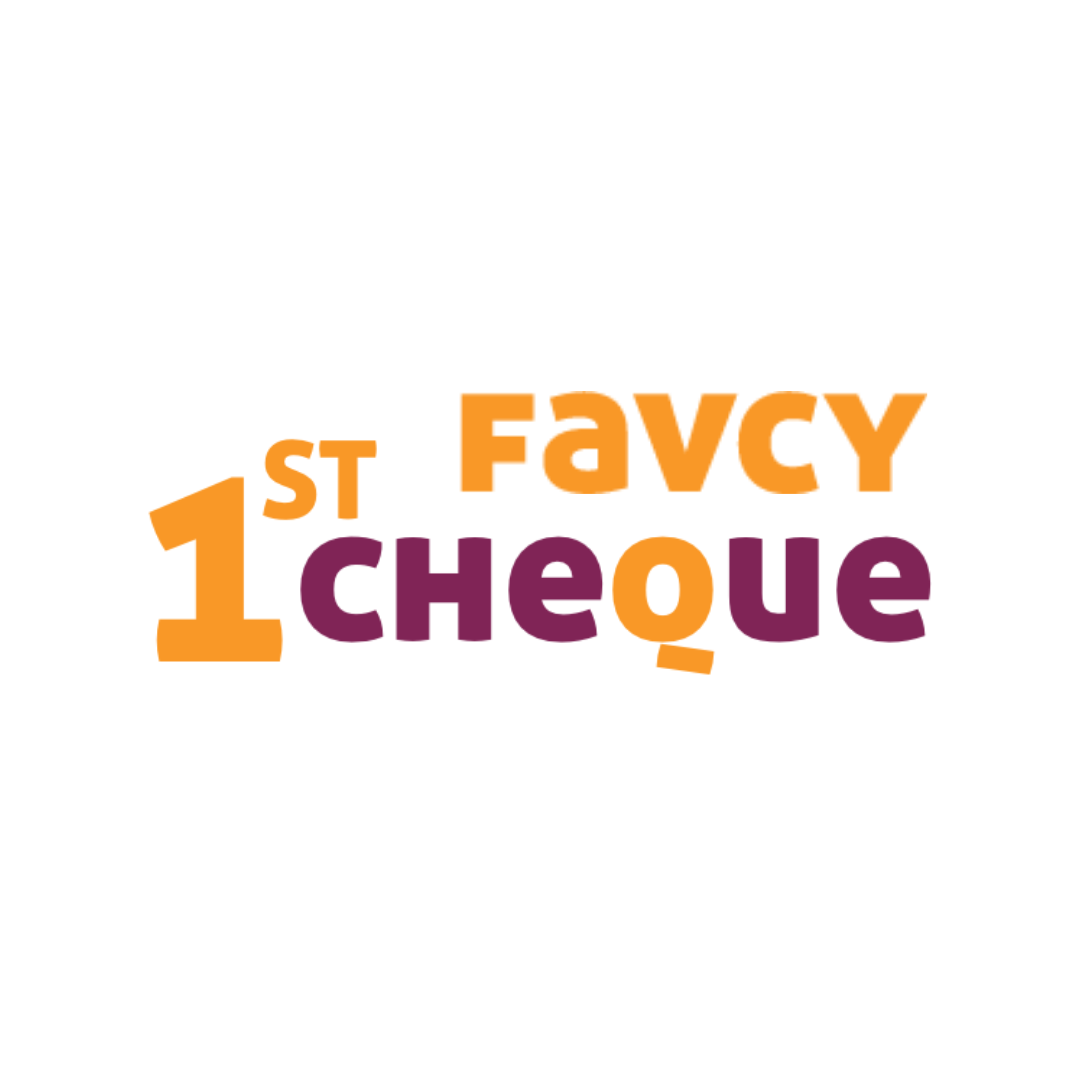 A platform for first-time angel investors to learn the science of early-stage startup evaluation. Get exclusive access to pre-vetted deal flow and make your first investment.     
Subscribe to our newsletter 👇🏻 Don't worry, it'll take just few seconds :)
Reach out to us:
Liked the Review, Share it with others!👇🏻